Current Scholars
Main Content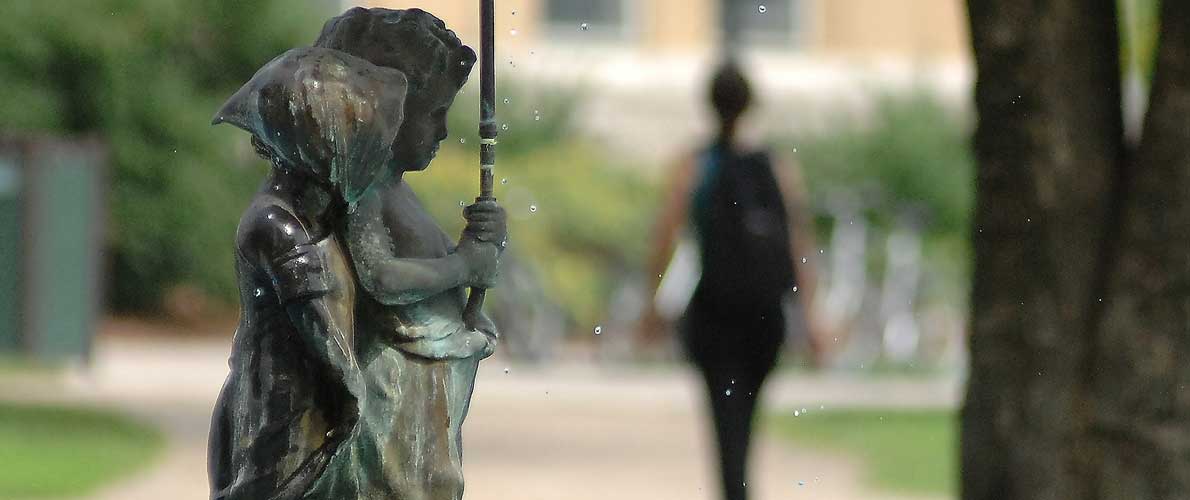 We are quite proud of our current McNair Scholars. Meet these leaders of tomorrow:
---
Xavier Aguirre
Major: Information Systems Technology
College: Applied Science and Arts
Mentor: Belle Woodward, Information Systems
SRI 2017 Title & Abstract:
Perceptions of Privacy Through Generations
The purpose of this study is to add to the current research concerned with the perception of privacy; namely, between various age groups. Quantitative data were collected through focus group interviews and one-on-one interviews with 20 participants between the ages of 18 and 63. The focus group results suggest that individuals younger than 25 want privacy, but do not take the time to learn how to protect themselves. Individuals older than 35 have a more pessimistic view of technology. Therefore, they seem to distance themselves from technology. Regardless of age, there is a consistent misunderstanding of technology and a lack of knowledge, yet a desire to know more about online privacy.
---
Frankie Anderson
Major: Social Work
College: College of Education and Human Services
Mentor: Dr. Cynthia Sims, Workforce Education
SRI 2017 Title & Abstract:
First Generation College Students: Exploring the Role of Mentoring and How It Contributes to Undergraduate Persistence
This study explored the impact of mentoring on student persistence among first generation college students (FGCS). Participants responded to semi-structured interview questions that explored their experiences with mentoring in higher education, perceived barriers that hinder their success as FGCS, and factors that contribute to their persistence as FGCS. The results of this study show that FGCS express varying levels of understanding and expectations of mentoring relationships. However, most of the FGCS participating in this study perceived mentoring as an invaluable contributor to their academic success and desire to complete a four-year degree program.
---
Angelica Bahena
Major: Zoology
College: College of Science
Mentor: Dr. Justin Boyles, Cooperative Wildlife Research Lab
SRI 2017 Title & Abstract: 
Cranial morphology of the gray fox (Urocyon cinereoargenteus) in Southern Illinois
High harvest pressure on mammals has been linked to changes in morphology and a greater juvenile to adult ratio. In Southern Illinois, gray foxes experienced high harvest pressure from trapping between 1954 and 1968. Approximately 230 of the gray fox skulls in the Southern Illinois University of Carbondale Mammal Collection were used to determine if there was a change in gray fox cranial morphology and a high juvenile to adult ratio due to high harvest pressure. Measurements were taken of each skull for comparison across time. There does not seem to be any change in cranial morphology based on the seven measurements taken while the juvenile to adult ratio was high as expected. This shows that high harvest pressure can be simulated without the control program in one area.
---
Izabella Bradford
Major: Microbiology
College: College of Science
Mentor: Dr. Bethany Rader, Microbiology
SRI 2017 Title & Abstract:
Symbiont regulation of host behaviors
In recent years, there has been a surge in interest regarding how the mammalian gut microbiota interacts with and influences different aspects of a host animal, such as disease states and various behaviors. Yet, the multitudinous microbial species in a microbiome and the complexity of their mechanistic interactions with each other and with their host animals makes generating concrete conclusions about the microbiome difficult. Thus, the need for simpler models to study host-microbe interactions is important to describe complex relationships, such as neurological and behavioral states. Potential models to thoroughly describe the relationship between a host animal and its microbial species are the well-studied intestinal microbiome in the rat, Rattus norvegicus, and the binary symbiosis between the Hawaiian bobtail squid, Euprymna scolopes, and its luminous bacterial symbiont, Vibro fischeri. The present study aims to connect possible parallels of symbiont regulation of host innate and learned behaviors in a complex vertebrate model and a simple cephalopod model. These data will establish a platform for future investigations to further dissect the complexities of host microbe interaction by comparing vertebrate and invertebrate models.
---
Shayla Brown
Major: Psychology
College: College of Liberal Arts
Mentor: Dr. Meera Komarraju, Psychology
SRI 2016 Title & Abstract:
The Role of Perceived Stress and Social Support on Students' Decision to Persist at a University
In this two part, experimental and cross-sectional study, the influence of perceived stress and social support on undergraduate students' decision to persist at a university was examined. Undergraduates (78) responded t one of two vignettes (student experiencing stress receiving social support o no social support) and also completed a survey with scales consisting of the Perceived Stress Questionnaire (PSQ), Social Support Questionnaire (SSQ) and Degree Commitment Questionnaire. 
The objective of this study was to determine if there was a relationship between perceived stress, social support and a students' decision to persist at a university. It was found that the student who was perceived as receiving greater social support would be more likely to persist within a university. Also, first generation college students (n = 35) reported having a significantly lower level of stress relative to non-first generation college students (n = 42). In addition to this, ethnic minority students reported having a significantly higher level of stress and lower level of social support than their non-minority peers.
---
William Browning
Major: Plant Biology
College: College of Science
Mentor: Dr. Dale Vitt, Plant Biology
SRI 2017 Title & Abstract
The Relationship Between Photosynthesis and Desiccation in Bryophyta
The purpose of this research is to examine how the photosynthetic process in mosses is affected by desiccation following complete hydration. Moss belongs to a group of small terrestrial plants known as bryophytes. Unlike other terrestrial
plants, bryophytes lack vascular tissue, which greatly reduces their ability to regulate a water supply. It is because of this that bryophytes have developed a remarkable ability to survive complete desiccation and resume physiological activity upon rehydration. There is currently little information regarding the effects desiccation has on photosynthesis. A larger focus in desiccation research is on the photosynthetic levels during rehydration following complete desiccation in the desert genera Tortula. However, this study compares the desiccation tolerance between two southern Illinois species, Plagionium medium, and Thuidium delicatulum. The expected outcome is a rising amount of activity after respiration occurs upon hydration with a consistent middle once the net productivity reaches its peak with a decline after prolonged desiccation. Based on the avoidance characteristics of Thuidium it is expected to have a lower photosynthetic rate for a longer time period than Plagiomnium, which is expected to have a higher photosynthetic rate for a shorter time period. The physiological processes of the plants were recorded using a CI-340 portable photosynthesis system and weighed afterward to determine a drying curve.
---
Aaron Caldwell
Major: Studio Art
College: College of Liberal Art
Mentor: TBA
Research Interest:
I strongly believe that art can positively influence one's emotional and social understanding. I would like to conduct research on the general benefits that art can provide to individuals.
---
Jacqueline Chavez
Major: Psychology
College: College of Liberal Arts
Mentor: Dr. Stephanie Dollinger, Psychology
SRI 2017 Title & Abstract
The Transition and Challenges of Deaf Students from High School to College
According to the Schroedel, Watson, & Ashmore (2003), there are approximately 468,000 deaf and hard of hearing college students. Deaf students can get lost in the transition process from high school to college because of a lack of academic preparation, campus accommodations, and social support (Garay, 2003). This study explored the transition process of deaf students from high school to a college or university. Three participants were interviewed for approximately 1 hour using a certified American Sign Language interpreter. Video and audio recordings were made to aid in data interpretation and analysis. Participants completed a demographic sheet, the "Most Helpful in Academic Work for Deaf Students" information sheet, and were asked a series of questions about their background, challenges, support systems, and campus resources. The data gathered for this study were transcribed, coded, and analyzed for thematic consistency and perceptions related to college transitions as reported by the student participants. Findings from this study will help institutions better assist deaf students with their transition to college.
---
Juan Corral
Major: Rehabilitation Services
College: Education and Human Services
Mentor: Dr. D. Shane Koch, Rehabilitation Institute
SRI 2017 Title & Abstract
Attitudes of College Students towards Individuals with Substance Use Disorders
The purpose of this research study is to get a better understanding of college students attitudes and beliefs about substance abuse. The experimental design of the study was quantitative and participants were contacted via email. The
participants in the study consisted of 53 students that are currently attending a 4-year mid-west institution, and of those respondents 75% were female and 25% were male. The participants were given a demographics sheet and a modified version of the Substance Abuse Attitudes Survey (Chappel, 1985) which assesses the attitudes and stereotypes associated with substance use disorders. The goal of this study was to capture the opinions of college students and use this information to help reduce negative attitudes towards individuals with substance use disorders.
---
Jamieson Deamer
Major: Cinema & Photography
College: Mass Communication and Media Arts
Mentor: Dr. Angela Aguayo, Cinema & Photography
SRI 2017 Title & Abstract
Comedic Realism: Richard Pryor and a Peek into Black Culture
As a comedian, Richard Pryor exerted tremendous influence on American culture. His material represented a unique voice and an unapologetic willingness to engage the tensions that exist within the black white binary of western societies. Pryor's particular brand of comedy was an expression of black male life in America, thus his comedy was largely reflective of the societal influences that shaped his perceptions of his lived experiences. This study examined the work of Richard Pryor and assessed the cultural impact of his comedy within the context of identity, race, and humor.
---
Baylen Earles
Major: Biological Sciences
College: College of Science
Mentor: Dr. Greg Rose, Anatomy
SRI 2016 Title & Abstract
Electrophysiological Assessment of Long-term Potentiation using In Vitro Hippocampal Slices

The goal of this project was to establish an electrophysiology system and a corresponding, functional protocol to study hippocampal long term potentiation (LTP) in an in vitro slice preparation. LTP analysis can give insight to changes in synaptic strength that are likely to be involved in memory formation (Rudy, 2008). However, establishing a reliable protocol is a complex task. For this reason, the focus of the brief summer project was to build a functional electrophysiological recording setup and to generate living hippocampal slices that demonstrate LTP. Subsequent studies will aim to explore if LTP will be affected by repeated mild closed-head injury (rmCHI), a form of traumatic brain injury (TBI) that causes lasting memory deficits without obvious neuronal cell loss. More generally, the protocols I established can be passed on to other students who wish to pursue other research questions that require electrophysiological methods. 
---
Dakota Discepolo
Major: Animal Sciences
College: College of Agricultural Sciences
Mentor: Dr. Erin Perry, Animal Sciences
SRI 2017 Title & Abstract
Working Canine Activity and Behavior Observations Under Three Types of Operational Conditions
Working canines play a vital role in the emergency response and national security for our country. The objective of our study was to monitor the core body temperature (CBT) and behaviors of working canines throughout a day of field operations and assess the behaviors that were predicted as compared to the behaviors that were observed. Nine certified human remain detection canines traveled to the SIU Center for Anthropological Research. All procedures were approved by the SIU IACUC prior to the initiation of the study. Dogs were 4.5 years (±3.5). Our data revealed that handlers were able to predict (prior to the start of the work day) the behaviors that would be exhibited during stress with 80% accuracy. Additionally, we observed CBT values well in excess of the normal threshold (>105ºF) with no outward change in behavior. It is also interesting to point out that there were significantly higher numbers of stress behaviors displayed at the mass casualty location as compared with the other sites. Dogs at this location displayed frequent and lengthy behavior episodes including failure to follow handler commands, sniffing non-target odors and excessive panting. Future studies may need to explore the stress of olfactory overload.
---
Ana Hernandez
Major: Social Work
College: Education and Human Services
Mentor: Dr. Elaine Jurkowski, Social Work
SRI 2017 Title & Abstract
Factors Impacting Retention of First Generation Latino Students in Higher Education at a Midwestern University
This study examined the experiences and obstacles of first generation Latino Students in higher education at a mid-western university. Participants were interviewed in person or via the telephone utilizing questions designed to explore their collegiate experiences and gain a better understanding of the obstacles they experienced. The interviews were transcribed, coded and analyzed to look for common themes consistent with the factors identified in the literature. Through an analysis of the data, recommendations were offered to better serve this population and increase the retention rates of Latino students into higher education.
---
Carlesha Hines
Major: Psychology
College: College of Liberal Arts
Mentor: Dr. Michael Hylin, Psychology
SRI 2017 Title & Abstract
The effects of repeated concussions on cognition and emotional regulation in mice
Traumatic brain injuries (TBIs) are one of the most dangerous injuries in the United States and there are various ways of contracting them. Injuries typically range from mild to severe. Previous research has focused on the cognitive dysfunctions of TBI which address deficits in learning and memory and some studies have even recognized TBI as a precursor for neurodegenerative diseases. However, little research has been conducted to address deficits in emotional regulation. Deficits in this extend to depressive and anxiety-like behaviors which are often side effects of TBI. This study examines the morphology of damaged brain regions where cognition and emotional regulation originate to find the correlation between the deficit and the injury. First, the experiment was conducted by using a controlled cortical impact device to induce a mild TBI. Then, the mice underwent two behavioral testing measures: the Morris water maze and fear conditioning. Finally, histological data were collected as well.
---
Dave Levsky
Major: Physics
College: College of Science
Mentor: Dr. Thushari Jayaskera, Physics
SRI 2017 Title & Abstract
Electronic Band Engineering of Two-Dimensional Cu-InSe
Since the discovery of graphene, two-dimensional (2D) layered materials have opened new opportunities for the device community. Due to the rise in popularity of 2D materials, expanding research is being conducted on bulk Indium Selenide (InSe), as it has potential for use in photo and gas sensing. Preliminary calculations confirmed the electronic band structures of multi-layer InSe and its tunable band gap. Calculations were then run to collect data on the adsorp-tion of methanol by few layer InSe, investigating the effect on the material's electric properties. The electronic band structures of bulk InSe suggest the material's novel applications in optoelectronics. Additionally, by viewing how InSe interacts with methanol, we deter-mined that there is potential to use the material for gas sensing.
---
Madison McMinn
Major: Chemistry
College: College of Science
Mentor: TBA
Research Interest:
I am interested in analytical chemistry and would like to continue doing projects that use gas-phase chemistry. 
---
Daniel Morales
Major: Zoology
College: College of Sciences
Mentor: Dr. Robin Warne, Zoology
SRI 2016 Title & Abstract
Testing for Ranavirus and Chytrid fungus interaction and facilitation of co-infection in amphibians
Emerging pathogens such as Ranavirus and Batrachochytrium den- drobatidis (Bd) are associated with major amphibian population de- clines. Co-infection has been reported in a Peruvian Andes region known for amphibian biodiversity. Little was known about how these pathogens facilitate infection. We exposed ~100 premeta- morph tadpoles to Rv LD50 and two concentrations (low dose and high dose) of Bd in order to investigate if exposed to ranavirus facilitates Bd infection during development, and if co-infection impacts mortality. Daily observations for any deaths, development issues, and metamorphosis were recorded to provide a visual graph. Co- infected animals died or went through metamorphosis faster than control groups. Energy to fight off infection decreases during meta- morphosis. The stress hormone CORT increases tadpole met- amorphic. The hormone alerts the immune system and signals against virus invasion. Experimental errors include not having the same Gosner stage among tadpoles, which impacts the timing of death or metamorphosis. All metamorphosis frogs were tested for Rv through a qPCR, and they were all infected with the virus. Limitations for this project include not having Bd primers for qPCR to assess the fungus, and not every tadpole dying.
---
Tierney Rhone
Major: Social Work
College: College of Education and Human Services
Mentor: Dr. Patricia Saleeby, Social Work
SRI 2017 Title & Abstract
Examining Permanence Issues for Children with Disabilities in Foster Care and Adoption Agencies in Illinois
Permanence provides foster children with a legal or relational connection to people who will remain in their lives and can assist in their mental, social, and physical health. Disabled children achieve lower levels of permanence throughout foster care. This study examined the preparedness of caseworkers and the systemic barriers to achieving permanence. The findings of this research support recommendations developed to improve both social work practice and policies promoting permanence for children with disabilities in foster care.
---
Harleigh Williams
Major: Psychology
College: College of Liberal Arts
Mentor: Dr. Stephenie Dollinger, Psychology
SRI 2017 Title & Abstract
The Relationship Between Development and Parental Communication for Deaf Individuals with Hearing Parents
Over 90% of deaf individuals are born to hearing parents (Quick Statistics about Hearing, 2016). Parents are faced with a multitude of different challenges, including how to interact and coexist with a deaf child. These challenges will affect how the parent communicates with the child. This qualitative study explored three main points: a) the experiences of deaf individuals who have hearing parents b) how the type of communication between the hearing parents and their deaf child impacted the child while growing up and c) the current implications of the relationship between the deaf individual and their parents. The study included semi-structured interviews with three females who were deaf (ages 22-26 years old). While past research has almost exclusively focused on the perspective of the parents, the current study was specifically designed to explore the unique experiences of the deaf individual. The interviews were transcribed and coded using a phenomenological approach. Four themes emerged from the interview data: relationships, challenges, support, and advice.