Current Scholars
Main Content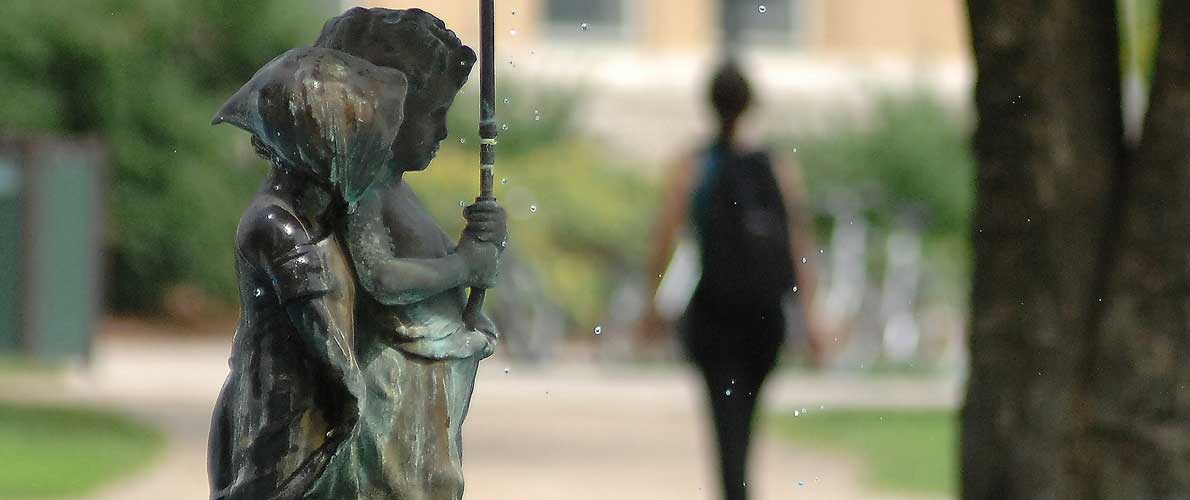 We are quite proud of our current McNair Scholars.  We would like for you to meet these leaders of tomorrow:
---
Danette Abernathy
Major: Psychology
College: College of Liberal Arts
Mentor: Dr. Lisabeth Dilalla, Behavioral Social Science - SMC
SRI 2016 Title & Abstract:
Siblings, Birth Order, Family Climate, and the Effects of Depression and Anxiety in Children
Five-year-old preschool children (n=831) participated in a longitudinal study measuring child development. The children and their parents came to the Southern Illinois Twins/Triplets and Siblings Lab where the children's parents filled out three separate forms, including the Child Behavior Checklist, Family Climate Inventory, and the Family Information sheet. The present study focused on childhood depression and anxiety. Analyses were run to test if birth order, family size and family climate were significant predictors of depression and anxiety in children. Results showed that children who were the oldest siblings scored the highest on anxiety/depression, and children with a twin but without other siblings scored the lowest on withdrawn/ depression. In addition, children from homes with high family conflict scored the highest on both anxiety and withdrawn depression. Thus, birth order and family conflict are both related to depression and anxiety in children.
---

Xavier Aguirre
Major: Information Systems Technology
College: Applied Science and Arts
Mentor: TBA
Research Interests:
My research interest involves various attitudes and perceptions toward privacy on a college campus. I would really like to engage these perceptions of privacy on new technology
---
Norris Akpan
Major:  Biological Sciences
College:  College of Science
Mentor:  Dr. Michael Hylin, Brain and Cognitive Sciences
SRI 2016 Title & Abstract:
The Effects of Probiotic Bacteria on Subjects following Traumatic Brain Injury
It is becoming increasingly known and understood that the bacteria which inhabit the human gut have proven to be quite influential in terms of affecting different aspects of brain function. Today, scientists are exploring this relationship as there is more and more evidence in support of this theory. Bacteria in the gut can affect a multitude of bodily aspects, including moods, mental state, biological functions and overall health. For this research study, probiotic bacteria were the bacteria of choice that was utilized in the gut of rats. Probiotic bacteria are a specific type of bacteria that are steadily gaining usage and consumption among many people today. The main goal of this study was to be able to draw a conclusion concerning the relationship between the probiotic bacteria, Lactobacillus reuteri, and inflammation of the brain following a traumatic brain injury. The glial cells in particular were the main part of the brain that was examined to measure the relative amount of inflammation following the injuries. A numerical count of the glial cells found in close proximity to the injury sites was collected to determine the amount of brain inflammation.
---
Rudy Bacette
Major: Psychology
College: College of Liberal Arts
Mentor: Dr. Chad Drake, Psychology
SRI 2016 Title & Abstract:
Examining the Effectiveness of Specific Mental Health Stigma Measures vs. General Mental Health Stigma Measures
 This study investigated severe mental health stigma measures and how effective they were in predicting social distance. This study was based on a previous study conducted by Isiah Thompson and Dr. Chad Drake, which examined implicit biases towards those with posttraumatic stress disorder. The experiment examined three general mental health stigma measures (i.e., Attitudes to Severe Mental Illness, Community Attitudes Toward the Mentally Ill, and Perceptions of Stigmatization by Others of Seeking Help) and one specific mental health measure (i.e., the Posttraumatic Stress Disorder Stigma Scale) to investigate whether there was a correlation between social distance toward PTSD, social distance toward mental illness in general, and the measures used in the study. The purpose was to investigate which of the mental health measures was best at predicting social distance and stigmatization for a specific mental illness (PTSD).
---
Izabella Bradford
Major: Microbiology
College: College of Science
Mentor:  Dr. Bethany Rader, Microbiology
Research Interests:
My current research interests involve viral mutagenesis and environmental microbiology. I would like to explore how various microorganisms aid in the reduction of pollutants.
---
Shayla Brown
Major: Psychology
College: College of Liberal Arts
Mentor:  Dr. Meera Komarraju, Psychology
SRI 2016 Title & Abstract:
The Role of Perceived Stress and Social Support on Students' Decision to Persist at a University
 In this two part, experimental and cross-sectional study, the influence of perceived stress and social support on undergraduate students' decision to persist at a university was examined. Undergraduates (78) responded to one of two vignettes (student experiencing stress receiving social support or no social support) and also completed a survey with scales consisting of the Perceived Stress Questionnaire (PSS), Social Support Questionnaire (SSQ) and Degree Commitment Questionnaire. The objective in this study was to determine if there was a relationship between perceived stress, social support and a students' decision to persist at a university. It was found that the student who was perceived as receiving greater social support would be more likely to persist within a university. Also, first generation college students (n = 35) reported having a significantly lower level of stress relative to non-first generation college students (n = 42). In addition to this, ethnic minority students reported having a significantly higher level of stress and lower level of social support than their non-minority peers.
---
William Browning
Major: Plant Biology
College: College of Sciences
Mentor: Dr. Jessica Lucas
Research Interests:
My current research interest involves the significance of cell shape in a model plant, Arabidopsis thaliana.  I am evaluating the role of a microtubule associated protein named ARK1 which essential for proper root hair growth.
---
Lloyd Coakley
Major:  Psychology
College:  College of Liberal Arts
Mentor:  Dr. Tawanda Greer-Medley, Psychology
SRI 2016 Title & Abstract:
Assessing the Relationship between Hypermasculinity/Aggression and Mental Illness (Anxiety) in Men
 The purpose of this study was to examine explicit and implicit aggression attitudes among men aged 18-30. I also determined whether aggression attitudes in men relate to mental health outcomes (anxiety specifically). The Auburn Differential Masculinity Index (ADMI-60) was used to assess explicit aggression attitudes. The Implicit Association Test (IAT) was used to measure implicit attitudes toward aggression. The Beck Anxiety Inventory was used to assess the level of anxiety in participants. Participants were administered an informed consent form. After, they completed the Auburn Differential Masculinity Index to measure explicit attitudes. This was followed by the IAT to examine implicit bias. D-scores reflected the degree to which persons possess a bias toward hypermasculinity and aggression (i.e., high d-scores reflect greater hypermasculinity and aggression). I performed a hierarchical regression analysis to test my hypothesis that greater hypermasculinity and aggression was predictive of poorer mental health outcomes for young adult males.
---
Bryce Corbett
Major:  Zoology
College:  College of Science
Mentor:  Francisco Chavez, Monterey Bay Aquarium Research Institute, Moss Landing, CA
2016 Summer REU Title & Abstract:
Exploring eDNA methodologies as a way to detect relationship between Anchovies and Krill in Monterey Bay Canyon
My research used environmental DNA (eDNA) to look at the distribution of zooplankton in Monterey Bay, California. eDNA is material that is sloughed by animals and does not require sampling live or whole organisms. In the fall months of 2013 through 2015 there was an increase in whale sightings and their prey, anchovies in Monterey Bay Canyon relative to the previous years (2010-2012). Was this increase in anchovies and subsequent whale sightings related to an increase in zooplankton? We hypothesized that zooplankton DNA would be present in large amounts in the environmental samples collected during 2013-2015. The second hypothesis is that zooplankton are less abundant over the shallow shelf than over deeper the slope. Zooplankton vertically migrate to escape predation and are not able to migrate deeply over the shelf. DNA was extracted from water samples procured at C1 Coastal Station in Monterey Bay during the fall months of 2010 through 2015 for the anchovy and whale study. Similar extractions were performed from a cruise in Monterey Bay in October 2015 when samples were collected over the shelf and slope.  Polymerase Chain Reaction (PCR) was used to amplify the extracted DNA for the mitochondrial cytochrome oxidase gene, targeting invertebrates. After receiving the correct amplicons a PCR cleanup was done and the final target DNA was sent to Stanford University to be sequenced by MiSeq. 
---

Juan Corral
Major: Rehabilitation Services
College: Education and Human Services
Mentor: TBA
Research Interest:
I am interested in exploring the association between schizophrenia and drug addiction. 
---
Jamieson Deamer
Major: Cinema & Photography
College: Mass Communication and Media Arts
Mentor: TBA
Research Interest:
I am interested in exploring new wave cinema and the Auteur theory. I am most interested in how this movement unfolds in France, Japan, and the United States.
---
Baylen Earles
Major: Biological Sciences
College: College of Science
Mentor:  Dr. Greg Rose, Anatomy
SRI 2016 Title & Abstract:
Electrophysiological Assessment of Long-term Potentiation using In Vitro Hippocampal Slices
 The goal of this project was to establish an electrophysiology system and a corresponding, functional protocol to study hippocampal long term potentiation (LTP) in an in vitro slice preparation. LTP analysis can give insight to changes in synaptic strength that are likely to be involved in memory formation (Rudy, 2008). However, establishing a reliable protocol is a complex task. For this reason, the focus of the brief summer project was to build a functional electrophysiological recording setup and to generate living hippocampal slices that demonstrate LTP. Subsequent studies will aim to explore if LTP will be affected by repeated mild closed-head injury (rmCHI), a form of traumatic brain injury (TBI) that causes lasting memory deficits without obvious neuronal cell loss. More generally, the protocols I established can be passed on to other students who wish to pursue other research questions that require electrophysiological methods. 
---
Anastazia Graf
Major:  Rehabilitation Services
College:  College of Education and Human Services
Mentor:  Dr. Shane Koch, Rehabilitation Counseling
Research Interest:
I am interested in researching the process and impact of of re-teaching daily skills to the residents of rehabilitation centers.
---
Ana Hernandez
Major: Social Work
College: Education and Human Services
Mentor: TBA
Research Interest:
My research interests focus on the experiences of first generation, Latinx students on college campuses. I am particularly interested in how campuses practice cultural competence to create a safe and inviting campus for students of color.
---
Jordan Holman
Major:  TV, and Digital Media Radio
College:  Mass Communication and Media Arts
Mentor:  Dr. Novotny Lawrence, Radio, Television and Digital Media
SRI 2016 Title & Abstract:
Love & Hip Hop and the Portrayal of Black Women 
This project utilizes critical race feminism to examine the fourth season of the reality television show "Love and Hip Hop: Atlanta." Reality television, as a genre, appeared in the 1990's and became wildly popular following its debut. Twenty-five years later it remains a popular form of television with viewers accepting the exaggerated story lines as truth. When these often exaggerated story lines are paired with stereotypes on reality television shows, they not only impact the community at large, but how the outside world views members of this particular group. My analysis of the show identifies the presence of both gender and racial stereotypes. Additionally, I conclude from my analysis of the shows that these carefully crafted caricatures alter themselves when in the presence of patriarchy. These findings support a growing number of studies which conclude that reality shows can be detrimental to marginalized groups in the larger society.
---
Trevor Keen
Major:  Physics & Mathematics
College:  College of Science
Mentor:  Dr. Mark Byrd, Physics
SRI 2016 Title & Abstract:
Initially Correlated Open Quantum Systems and their Applications
Open quantum systems are an integral part of the quest to build a quantum computer. However, in the theory of open quantum mechanical systems, there is an assumption that asserts there are initially no system-environment correlations. It has been shown by Chitambar et al. that this should not be used in some cases, and certainly should not be assumed in general. For this research project, I presented a Mathematica code that does not require aforementioned assumption by using the methods described by Modi in Sci. Rep. 2, 581 (2012). I also provided an example to show outcomes for a family of systems with initial correlations. The Mathematica code presented is general enough to be of use for any system and unitary transformation with few modifications.
---
Daniel Morales
Major:  Zoology
College:  College of Science
Mentor:  Dr. Robin Warne, Zoology
SRI 2016 Title & Abstract:
Testing for Ranavirus and Chytrid fungus interaction and facilitation of co-infection in amphibians
Emerging pathogens such as Ranavirus and Batrachochytrium den- drobatidis (Bd) are associated with major amphibian population de- clines. Co-infection has been reported in a Peruvian Andes region known for amphibian biodiversity. Little was known about how these pathogens facilitate infection. We cexposed ~100 premeta- morph tadpoles to Rv LD50 and two concentrations (low dose and high dose) of Bd in order to investigate if exposed to ranavirus facil- itates Bd infection during development, and if co-infection impacts mortality. Daily observations for any deaths, development issues, and metamorphosis were recorded to provide a visual graph. Co- infected animals died or went through metamorphosis faster than control groups. Energy to fight off infection decreases during meta- morphosis. The stress hormone CORT increases tadpole met- amorphic. The hormone alerts the immune system and signals against virus invasion. Experimental errors include not having the same Gosner stage among tadpoles, which impacts the timing of death or metamorphosis. All metamorphosis frogs were tested for Rv through a qPCR, and they were all infected with the virus. Limitations for this project include not having Bd primers for qPCR to assess the fungus, and not every tadpole dying.
---
Emily Peterson
Major:  Civil and Environmental Engineering
College:  College of Engineering
Mentor:  Dr. Yanna Liang, Civil and Environmental Engineering
SRI 2016 Title & Abstract:
Optimization of the Hydrothermal Liquefaction Process using K2CO3 as the Catalyst for Pre-Washed Solids
 The world is facing an energy crisis and a replacement for fossil fuels is needed. Biofuel is a viable alternative to fossil fuels that is renewable and sustainable. A simple and efficient process was developed to produce biodiesel using an oleaginous yeast strain, Cryptococcus curvatus, grown on hydrolysates of sweet sorghum bagasse. To make this process more economical and effective, we have been studying the utilization of two by-products (yeast-cell residues after transesterification and the washed solid after pre- treatment) through hydrothermal liquefaction (HTL) to produce biocrude. Our previous research has shown that K2CO3 at 1 mol/L and 300oC is the best catalyst among six in leading to the highest biocrude yield. To further optimize the reaction conditions, we tested HTL of the pre-washed solid at temperatures between 280-320oC, residence time between 5 and 60 min, and catalyst (K2CO3) concentration from 0.1 to 1 mol/L. A design matrix using Box Behnken design was developed. Results from this study were presented.
---
Jorden Thomas
Major:  Psychology
College:  College of Liberal Arts
Mentor:  Dr. Chad Drake, Psychology
SRI 2016 Title & Abstract:
Does the Implicit Relational Assessment Procedure Predict Interaction with People Diagnosed with Attention-deficit/Hyperactivity Disorder?
 The purpose of the current study was to examine the differences between im- plicit and explicit stigmatizing views of people exhibiting symptoms of ADHD. Implicit (i.e., automatic) attitudes were measured with the Implicit Relational Assessment Procedure (IRAP; Vahey, Barnes-Holmes, & Barnes-Holmes, 2009), and explicit (i.e., controlled) attitudes were measured by self-report question- naires that have been adapted for this study. The participants for this study were a convenience sample of introductory psychology students from a large Midwestern university. The students first answered self-report surveys to assess their explicit perceptions of ADHD, followed by the completion of an IRAP tailored to measure their implicit attitudes. Along with the self-report surveys, the participants read two gender-matched vignettes of characters that exhibit ADHD-like symptoms. The only substantive difference between the two vignettes was that one was diagnosed with ADHD by a professional while the other was not. The IRAP recorded latencies to provide endorsements and denials of various trials containing evaluative words and the names of the people in the vignettes. After the IRAP, students completed the Social Distance Scale (SDS; Bogardus, 1933), adapted for this study to measure their willing- ness to interact with each person in the vignettes. It was hypothesized that the IRAP would reveal pro-undiagnosed, anti-diagnosed biases and also predict social distance.
---
Naomi Tolbert
Major:  Political Science and International Affairs
College:  College of Liberal Arts
Mentor:  Dr. Chris Stout, Political Science
SRI 2015 Title & Abstract:

Unequal Access: Factors Contributing to the Disproportional Representation of Marginalized Groups within Study Abroad Programs

Previous research shows that success-driven programs can change students' outlooks on life and shape their opportunities for the future. However, the use of these programs is not evenly distributed. In this project I explore whether minorities and low-income white students attending institutions of higher education use success-driven programs, such as study abroad, less than more affluent whites. I surveyed a variety of participants using Amazon Mechanical Turk (MTurk). The instrument consisted of 33 questions and included 400 respondents who were current or recent college students. I expect that socio-economic status, family obligations and fear of discrimination will negatively affect study abroad participation. Results from this study will provide insight to address racial and social inequalities in study abroad programs.
---
Harleigh Williams
Major: Psychology
College:  College of Liberal Arts
Mentor: To Be Determined
Research Interest:
I am interested in researching the relationship between communication within family units and its effect on the mental health and development of children within those family unit.
Top